Our Teen Center offers a safe place for teens, where they can  be themselves without feeling the pressure of being judged.  From sports to the arts, volunteerism to academic pursuits, we offer teens resources and programs to create meaningful experiences today as they prepare a plan for the future.  Teen membership is $20 per year.  For more information on our teen programs, please email [email protected].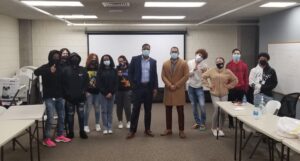 Keystone Club
Keystone provides leadership development opportunities for teens in grades 7-12. It affords them an opportunity to gain valuable leadership and service experience.  Keystone conducts activities in four areas:
Academic Success
Career Exploration,
Community Service
Teen Outreach
Keystone meetings take place on Wednesdayss 6:00pm-7:30pm.  Snacks are provided at each meeting.  For more information or to register, please email [email protected]
SMART GIRLS/Open Gym
Middle School Girls – Tuesday 6:30pm-8pm
High School girls – Thursday 6:30pm-8pm
SMART Girls is a small-group health, fitness, prevention/education and self-esteem enhancement program designed to meet the developmental needs of girls in grades 6th-12th.
During the open gym, girls can work on their basketball skills, scrimmage with peers and also explore their own and societal attitudes and values as they build skills for eating right, staying physically fit, getting good health care and developing positive relationships with peers and adults.
Career Launch
EPBGC's job-readiness and career preparation program for teens. It will meet on Mondays from 6:30pm-8pm starting on April 3rd.
It provides fun and interactive activities for youth ages 14 -17 to explore a broad range of career areas, match their interest to career clusters and identify the skills and education needed for their particular career path.
Career Launch is designed to support youth in preparing for their first job, internships, summer employment and so much more!
Teens that participate in this program get summer jobs. There are limited spots available.
Money Matters: Make it Count
The financial decisions that young people make today will impact their future. We pair youth with supportive Club mentors and volunteers to develop the financial skills that can lead to workplace readiness, lifelong financial stability and overall success. In addition to staff-led financial literacy sessions, young people practice their financial decision-making skills through fun, engaging digital tools and games. Teens who complete Money Matters show improved financial management skills, including saving money and sticking to a budget.
Boys 2 Men Open Gym
Boys 2 Men Open Gym represents a targeted effort to engage young boys in discussions and activities that reinforce character, leadership and positive behavior. The boys will be working on their basketball skills, as well as, building and practicing life skills for decision-making, conflict resolution and healthy relationships. Positive values and responsible behavior are reinforced.
This all boy program is open to boys in grade 7th and above.  The program gives them practice in making healthy decisions related to their physical, cognitive, emotional and social development. They will learn the essential attitudes, values and skills they need to become responsible adult men.